Yeah, I know, this week's Top 52 was late. Well, hopefully you can rock out with this week's game: Guitar Hero II.
-----------------


Title: Guitar Hero II

Console: PS2
Release Date: 11/07/06 (US)
Genres: Music, Rhythm, Simulation
My Ranking
: #45
Become a rock star. That's how Harmonix, RedOctane and Activision marketed this game. Instead of using standard controllers, the Guitar Hero series features
plastic toy guitars
with five buttons on them. The guitars fit nicely over your shoulder and it feels as though you're holding a guitar in your hands.
Most of you probably know how Guitar Hero works. Different colored notes flow from the top of the screen and you have to press the right colored note in conjunction with the strum bar at the right time. It's a simple concept that anyone can understand but, it requires months of practice to become really good at this game.
Being an actual guitarist, the first time I picked up the toy guitar at my friend's house, something didn't feel right.
I saw the notes flowing down on the screen, seemingly trivializing actual guitar playing
. Five buttons just doesn't add up to six strings with over fifteen frets to work with. Frankly, I was a little bit insulted.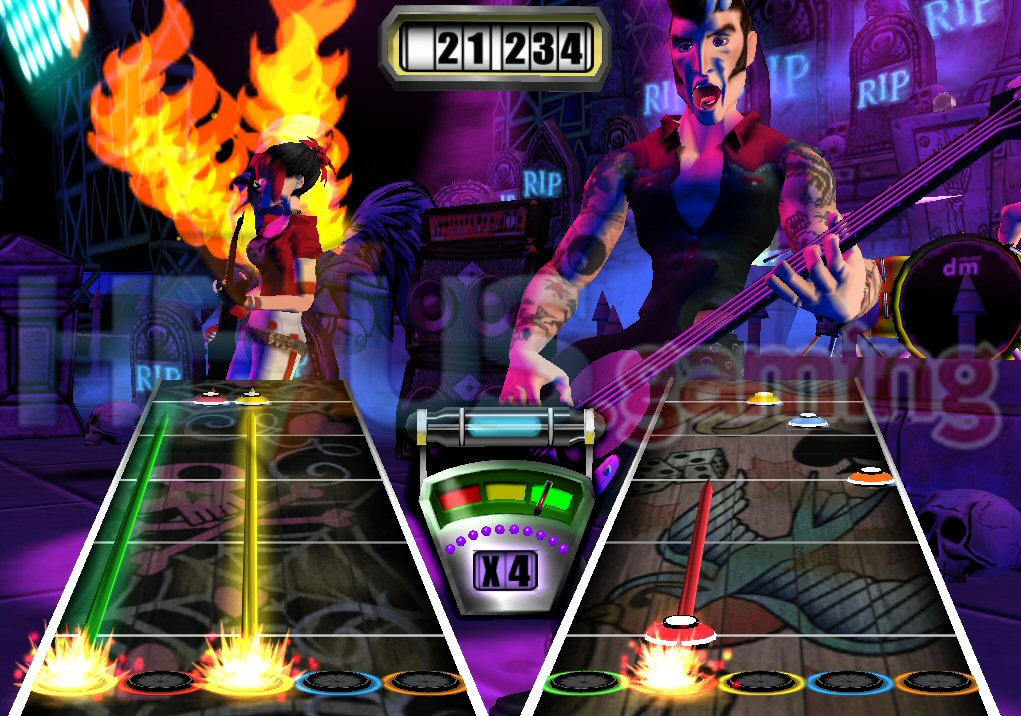 But then, I started to play the game and found myself really enjoying the experience. Sure, it's nothing like actual guitar, but the simulation is dead on. You're holding a guitar-like "instrument" and when you play the right "notes" the music plays. When you mess up, you hear yourself mess up. It's simplified, but it feels realistic, even to regular guitar players.
Despite there being only five buttons, the game can be quite challenging when dealing with some crazy solos *coughHangar18cough*. When the notes move by so fast you only have a split second to react and if you're playing the song for the first time, you'll find yourself overwhe
l
med by a barrage of colors coming at you. Luckily though, Guitar Hero sports four different difficulty settings that really prepare you for the harder songs. By the time you finish all the songs on hard, you'll be ready to take on the easier songs in Expert.
I picked Guitar Hero II over the other installments in the series since I thought this game had the best blend of song selection, difficulty and features. The original
Guitar Hero has the best song list
but it was too easy.
Guitar Hero: Rocks the 80's had a great song selection
but no bonus songs whatsoever.
Guitar Hero III had the worst song selection
in the series in my opinion and for whatever reason, requires you to play co-op career mode to unlock all the co-op songs on different difficulty settings. The Xbox 360 version had a patch to fix this problem, but PS2 owners were left in the dust.
Guitar Hero II's song selection
kept me playing. Even with different installments in the series I find myself falling back to this specific game. Songs I really feel in love with include "Carry On Wayward Son," "Hangar 18," "Jessica," "John the Fisherman," "YYZ," and so much more. Upon playing through the Guitar Hero games, I found that my musical tastes had expanded out. I've heard of Rage Against the Machine, Primus and Pearl Jam but I never really
listened
to them. When I finally heard their music, I got their albums.
Guitar Hero is also excellent for parties. The game provides interactive, good rock music so it appeals to people who just want to listen and to people who want to play video games. I still actively play this game on my PS2 and I'm happy that I bought it despite the ridiculous price tag. To get the game and two guitars you will be spending over $100. Yeah, it hurt, but you'll love this game so much that you'll forget how much money you blew on one video game.
------------------
My Top 52:
#44 --- Revealed on 09/02