Katamari Damacy
is by far the best game on the Playstation 2. If you have this system, you absolutely MUST own this game. Read on to find out why.
Title
: Katamari Damacy
Console
: Playstation 2
Release Date
: 09/22/04
Genre
: Puzzle Action?
My Ranking
: #27
-------------------------------------
With so many games that have come and gone it is rare to find a game that is as unique as Katamari Damacy. In Katamari Damacy, you control a
little green prince who pushes a ball called a katamari.
This ball is able to pick up anything that is smaller than itself and upon picking that object up it gets progressively bigger in size. Basically, you playing a a game that revovles around the snowball effect.
Why are you rolling up objects on planet Earth? Well, the American version of Katamari omits this knowledge but the Japanese version gives an awesome backstory. The
King of all Cosmos
apprently got REALLY drunk one night and destroyed all of the stars in the universe. In order to cover up his mistake, he sent his son, the Prince of all Cosmos, to Earth to roll up objects with his katamari. Upon recieveing those objects, the King of all Cosmos shoots the ball into space and turns it into a star. Yes, our stars are made of thumbtacks, cats, legos, and volcanos.
Aside from the water, EVERYTHING in Katamari Damacy can be picked up with your ball. A dog early on may be able to push you around but once you gain enough objects you'll be able to pick up him. A level may start out inside of a house but, if you are fast enough and pick up enough stuff, you'll be able to then roll up the entire house. The camera slowly pans out further and further as you pick up more objects and before you know it, you're picking up entire islands, clouds, and even
rainbows
.
As if the premise wasn't good enough, the
cel-shaded graphics
add even more to the gameplay. Katamari Damacy looks and feels like Japanese mangas on crack. The world is vibrant with bright colors and the sheer cuteness of the people as they wiggle when you pick them up in your ball will make you smile. I don't understand why people are necessary in a katamari to make a star, but the King of all Cosmos never seems to mind.
The music and sounds are also top notch. Sure, some of it is whacky J-Pop, but the
Japanese jazz pieces
will absolutely blow your mind.
All of the songs fit perfectly with the cutesy birght environment
and they are
all insanely catchy
. Upon hearing
the main theme, there is no doubt that it will stick in your head for days
. Also, nothing beats rolling over a cow and here it go moo. That's just awesome.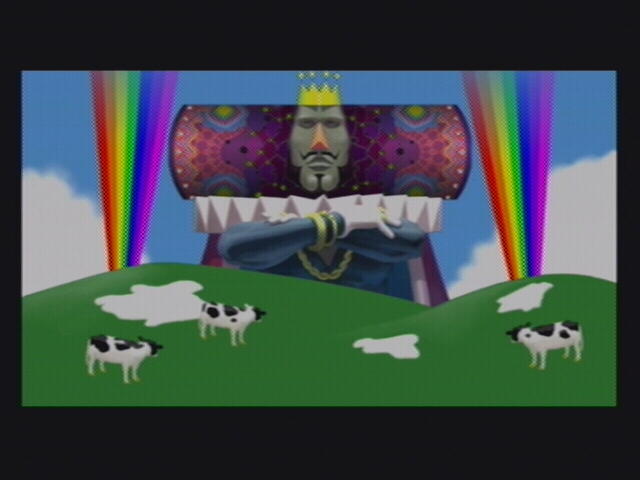 Katamari Damacy does have
competitive multiplayer
, but I never really enjoyed it. I wished they would have had some sort of cooperative mode where you each get a ball to control, but the game can be enjoyed with multiple people in single player mode. Your friends will scream out where they think you
'
re supposed to go and there is so much stuff happening on the screen at once that you'll even enjoy sitting back and watching the madness ensue.
By no means is Katamari Damacy easy either. There is a timer for each level and if you do not get your ball big enough in the alloted time, the King will be very angry with you. You'll fail some levels if you haven't played it before, but by the end of the game you should be good enough to complete the final stage where you roll up just about
everything in the world
. In addition, in order to unlock all of the comets, you'll need to get your ball big enough in an even shorter time, and some of the comet times will keep you playing for hours.
Katamari was really a complete and unique game. Whenever we bring this to PLAY events, people always want to play it or watch someone else run through the levels. So if you are a PS2 owner, do yourself a favor and pick this game up as
anyone can enjoy this game
. It made be one of the best game purchases you have ever made.
-------------------------------------
My Top 52:
#52 ---
Star Fox 64 (N64)
#51 ---
Kirby's Adventure (NES)
#50 ---
Roller Coaster Tycoon (PC)
#49 ---
Grand Theft Auto III (PS2)
#48 ---
Metroid Prime (GC)
#47 ---
Halo 3 (Xbox 360)
#46 ---
Bomberman 64 (N64)
#45 ---
Guitar Hero II (PS2)
#44 ---
Super Street Fighter II (GEN)
#43 ---
Pokemon Puzzle League (N64)
#42 ---
Soul Calibur II (GC)
#41 ---
Gears of War (Xbox 360)
*
#40 ---
Elite Beat Agents (DS)
#39 ---
Call of Duty 4 (PS3)
#38 ---
Super Metroid (SNES)
#37 ---
The Orange Box (PS3)
*
#36 ---
Metal Gear Solid (PS)
#35 ---
Doom (PC)
#34 ---
Super Mario Kart (SNES)
#33 ---
Mischief Makers (N64)
#32 ---
Super Smash Bros. Brawl (Wii)
#31 ---
Super Mario RPG: Legend of the Seven Stars (SNES)
#30 ---
Phoenix Wright: Ace Attorney - Justice for All (DS)
#29 ---
Paper Mario: The Thousand-Year Door (GC)
#28 ---
F-Zero (SNES)
#27 ---
Katamari Damacy (PS2)
*
*- Denotes highest ranked game for that console