The position of
Super Metroid
on my Top 52 is sure to piss some people off.
Some people view Super Metroid as one of the best games ever
. Regardless, this game is awesome and it's on my list for that reason. However, I played this game late; I know I played it after 2000 at least. So, I never really got all into this game when it came out out, but after I had finished it, I had wished that I did.
--------------------
Title
: Super Metroid
Console
: Super Nintendo
Release Date
: 04/18/94 (US)
Genre
: Action Adventure
My Ranking
: #38
The Metroid series is famous for having an open environment that the player can explore in. The original
Metroid for the NES
was the first (at least, for me) to turn 2D platformers into fully explorable worlds. Super Metroid followed in suit except this time the environments were so much more beautiful, the interface was flawless and the boss battles are some of the most memorable experiences in video game history.
Unlike platformers like
Mario
and
Mega Man
, Metroid didn't have a linear mindset. Sure, there were areas you could not explore without first obtaining some sort of special ability but, you always felt as though no entity was pushing you in a particular direction. The order in which you could obtain most of the items was completely up to the player. Speed runs (one is shown below) therefore, could be really hard to map out, adding great level of replay value.
The
interface
and controls is really what made Super Metroid for me. Shooting was easy and by holding L, Samus could shoot diagonally, which made hitting enemies a really tactical venture. Your health, missiles, super missiles, power bombs and a mini-map were all displayed on the top of the screen so that you really ever needed to look at the actual menu screen. You were always involved directly in the action with every piece of information only a glance away.
For the most part, Super Metroid didn't have traditional music. Every area you went into had atmospheric music.
Norfair's music exuded the feeling of fire
, for example. The music was bit creepy however. Walking through Planet Zebes, I felt a little bit on edge, in part because of the music.
There is virtually no text in Super Metroid either. Samus interacts with no one throughout the entire game, so what you see is what you get. Don't quite get why a
flying bony dinosaur named Ridley
is trying to eat you? No time to worry about that, since he's coming right after you. There is a story behind Super Metroid, but you will likely forget it as you wonder in the world.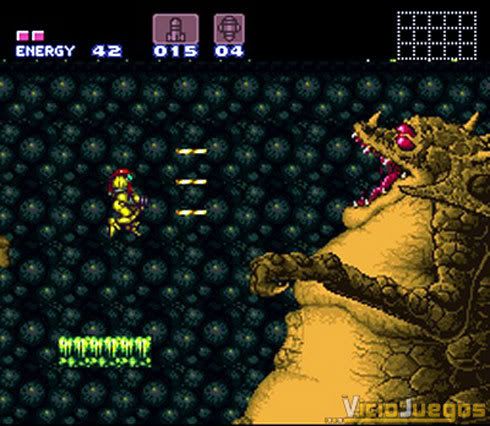 This isn't a problem with the game, by no means. I like it better this way. No instructions, no help. Just pure action. Who doesn't remember pelting Ridley with dozens upon dozens of missiles while he grabs onto you, slowly draining your health?
Gunpei Yokoi
and the developer of Super Metroid knew that their audience wanted to just play the game, so they made every attempt to make sure you were always playing and never stopping.
The weapons were also awesome, and all of them worked well within the environment. The wave beam allowed you to shoot through walls; the ever-important ice beam froze enemies; and the
screw attack
made you nearly indestructible while jumping. Every upgrade you got was immediately useful and stayed useful throughout the entire game.
I don't know why I didn't love this game more than to be ranked #38 on my list. Maybe it was because none of my friends were into it, despite me raving about it years after its release. Either way
,
if you haven't played it, download it for your Wii right now; it's on the Virtual Console. Super Metroid showed that you could create immersive environments in a 2D setting while being incredibly fun to play.
------------------------------------------
My Top 52:
#52 ---
Star Fox 64 (N64)
#51 ---
Kirby's Adventure (NES)
#50 ---
Roller Coaster Tycoon (PC)
#49 ---
Grand Theft Auto III (PS2)
#48 ---
Metroid Prime (GC)
#47 ---
Halo 3 (Xbox 360)
#46 ---
Bomberman 64 (N64)
#45 ---
Guitar Hero II (PS2)
#44 ---
Super Street Fighter II (GEN)
#43 ---
Pokemon Puzzle League (N64)
#42 ---
Soul Calibur II (GC)
#41 ---
Gears of War (Xbox 360)
*
#40 ---
Elite Beat Agents (DS)
#39 ---
Call of Duty 4 (PS3)
#38 ---
Super Metroid (SNES)
*- Denotes highest rated game for that console