This week's Top 52 finally touches upon one of the most underappreciated consoles of all time, the Sega Genesis. Super Street Fighter II has been one of the few fighters to blow my video game mind away. I'll show you why in this retro-review.
-----------------------

Title: Super Street Fighter II
Console: Sega Genesis
Release Date: March 1994 (US)
Genre: Fighting
My Ranking: #44

This game isn't Street Fighter II Turbo. It isn't Street Fighter II: Champion Edition, Street Fighter II: Special Championship Edition or just Super Street Fighter 2. This game is Super Street Fighter II for the Sega Genesis. Why they made so many iterations of the same game is beyond me. Regardless, this game rocks and is best 2D fighter I have ever played.

I'm not a big fan of the standard fighting games. I find that in most of them you can just mash buttons and be successful. Knowing combos and blocking can be helpful, but for most fighters you can get away with not understanding the game's mechanics. With Super Street Fighter II you can hold your ground with button mashing, but the better player will usually win.

Most people play as Ryu or Ken (they are awesome characters) but most of the characters are pretty balanced. I've seen people own with M. Bison, Sagat, Blanka, Chun Li, E. Honda and even Guile. Characters like Cammy (she's hot) and Balrog (he's not) are completely useless in big competitions but there is enough variety to keep the game interesting.

Street Fighter has set the standard for fighting games. Quarter-Circle punch is forever etched into my mind as a projectile attack. Even current-gen fighters like Soul Caliber still have some projectile moves that use a quarter-circle punch to activate. Seriously, if you're a gamer, do you not know what a Hadouken is?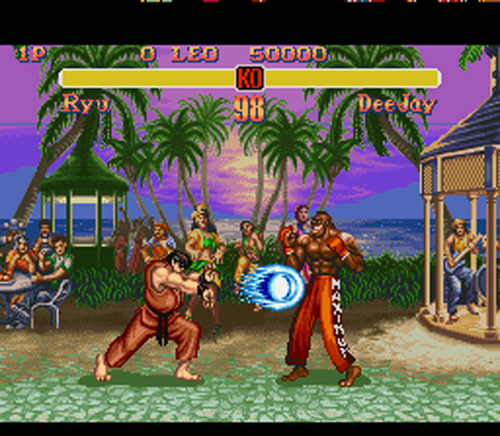 Super Street Fighter II was absolutely perfect on the Sega Genesis 6-button controller. You could put the low, medium and high punches for the X, Y, and Z buttons and the low, medium and high kicks for the A, B and C buttons. The button layout was organized and really was easy to use. Using the shoulder buttons on the SNES just didn't work for Street Fighter.

By using a barrage of punches, kicks and special attacks, a player could wipe out an opponent pretty fast. The health bar was at the perfect level so that you could survive one really well-placed combo but, if your opponent caught you again you wouldn't survive another combo. You had to strike quick and be sure not to miss because a good opponent would take advantage of your mistake.

I remember playing this game with my brother when I was young, and I remember him kicking my ass in this game. When I beat him with Blanka one time, I was so excited. Nothing sounded so satisfying than to hear Ryu gasp in death from an electrical shock. Yeah, I was eight at the time, but it still rocked.

I soon discovered the complete and wonderful balance of Ryu and Ken and began to use them more often. I never became a beast at this game but I know almost everyone's moves in that game. I still fall back to this game every now and then. The controls are so easy to pick up and the fighting is so precise and intense when you're playing against a tough opponent. It was also great to be able to increase the speed of the game at the title screen, requiring more focus on the player's parts.

Super Street Fighter II still remains one of the more popular fighters today because of its competitive, simple gameplay. Moves and combos aren't that hard to figure out. Just pick a character, find their brief move set online and try combining some moves in the one-player mode for about fifteen minutes. Even if you never played a fighter before, you'll get the hang of it.

Accessible yet competitive; there's a reason why people are going crazy about the upcoming Street Fighter IV.
Awesome Easter Egg! Watch it!
UPDATE: The cartridge I have is Super Street Fighter II, no turbo. Super Street Fight II TURBO never made it to the Genesis. My bad. Thanks to Jeffrey for that catch. If Capcom would only name one game one NAME, this wouldn't be an issue. Lolz.
------------------------------------------
My Top 52:
#52 --- Star Fox 64 (N64)
#51 --- Kirby's Adventure (NES)
#50 --- Roller Coaster Tycoon (PC)
#49 --- Grand Theft Auto III (PS2)
#48 --- Metroid Prime (GC)
#47 --- Halo 3 (Xbox 360)
#46 --- Bomberman 64 (N64)
#45 --- Guitar Hero II (PS2)
#44 --- Super Street Fighter II (GEN)

Photos: [1], [2]